Compact Catering Menu Veg (Simple)

Outdoor Catering Service
Definitions:
Cultery : Knives, forks, and spoons used for eating.
Crockery : Plates, dishes, cups, and other similar items used for eating.
Buffet Stall : Normal food catering stall used for serving food.
Service Staff : Waiters, Hotel Management Boys / Girls, Runners, Cleaners etc.
Seasonal Veg Entrée : It is the main dish made of Seasonal vegetable delicacies such as Mix Veg, Gobi Mutter Masala, etc.
* T & C Applied.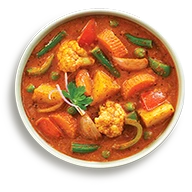 Compact Menu - Simple (Veg)
Rate of the menu depends on quantity & varies with quantity.
(Menu package includes cutlery, crockery, buffet stall, food, mineral water, service staff, delivery and pickup.)
Available from minimum of 30 plates. Comprises of your chosen '04' dishes from our given choices.
OFFERED MENU
(CHOOSE ONE OF EACH)
✔ One Seasonal Veg Entrée :
( Gobi Mutter Masala / Baigan Masala / Mix Veg Masala / Kadhai Veg )
✔ One Rice (Basmati) :
( Jeera Rice / Plain Rice / Mutter Rice )
✔ One Dal :
( Dal Fry / Dal Tadka )
✔ One Bread :
( Fulkas / Plain Puris )
✔ Green Salad
✔ Mineral Water Jars
Enquire Rate

We serve only at NAGPUR presently.
89832 02110
WhatsApp
Contact Us
OTHER MENU PACKAGES
Simple Menu (Veg)
Executive Menu (Veg)
Executive Plus Menu (Veg)
Royal Menu (Veg)
OTHER PRODUCTS
Food Parcel Menus (Veg)